With today's release of Patch 8.3: Visions of N'Zoth, Battle for Azeroth has entered the final stage of its lifespan. The impending release of WoW's next expansion, Shadowlands, has shifted the focus of the game immensely, but if anything remains imperative for Blizzard, it's going to be ensuring that Patch 8.3 serves as a transitional bridge between the closing chapter of BfA and a new era for World of Warcraft.
It's no secret that Battle for Azeroth hasn't been the most well-received expansion. If anything, these past two years will go down as one of the darker blemishes on the pages of WoW's figurative history book. With that in mind, it should be a major focal point for Blizzard to try and get the game back on the right track. That initiative starts today with the launch of the expansion's final patch. The groundwork for any successful expansion starts in the closing patch of the previous expansion. In the case of a successful Shadowlands, that process starts with the launch of Visions of N'Zoth. 
And while it's going to be important for Patch 8.3 to serve as a grand finale to BfA, it's going to be even more important for the patch to be a way for the game to move on from the expansion altogether.
If we think back to the launch of BfA, WoW was doing really well. Legion was fresh off an incredible run and the franchise was heading into another monumental period in its history. And although the launch of Battle for Azeroth was remarkable, many players who found themselves jumping back on the WoW bandwagon in August of 2018 were quickly jumping off of it a few months into the expansion's lifespan.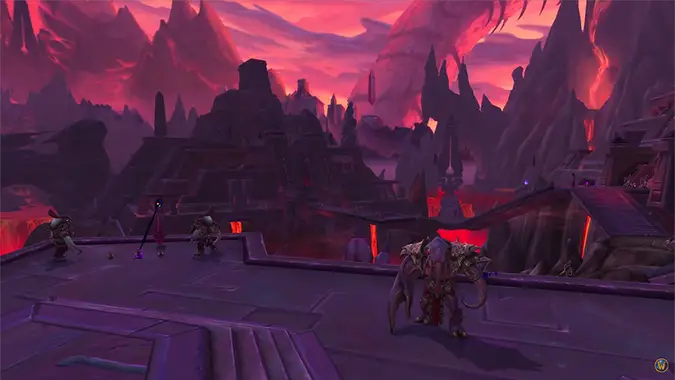 Any expansion launch is going to be a major event from a business standpoint for Blizzard. Whenever a new WoW title hits the servers, an influx of new and returning players are sure to historically pop out of the woodwork, and the company should most definitely expect the same for the Shadowlands launch later this year. However, patch releases do have a similar effect, albeit to a lesser extent.
When a new patch releases, it isn't incredibly far-fetched to assume that a strong portion of the playerbase returns to dive headfirst into some new content. Today, with Patch 8.3 finally coming to fruition, it would be expected to see many players jump back into WoW. Additionally to that point, many of the players who bought into the game back when BfA launched could be coming back for Patch 8.3 to see how things wrap up. 
The main challenge for Blizzard today – and for many of the upcoming weeks – is going to be keeping those players who return to the game engaged with WoW as a whole. It's definitely expected that Patch 8.3 will supply a bit of a boost to the playerbase, and keeping that boost intact should be on the company's radar moving forward. BfA struggled with player retention early on in its lifespan, but here towards the end, it could be a major strength of the expansion as we head into Shadowlands.  
A new patch so early here in the year bodes well for an earlier release date for Shadowlands. Whereas Legion, BfA, and even WoW: Classic were released in late August, it wouldn't be totally out of the question to see Blizzard nip Battle for Azeroth ahead of traditional schedule to get the next expansion out before that August window arrives. The fact that we're getting a patch here in January and Shadowlands is slated to release sometime this year could be a sign that the expansion will hit live servers way before Q4 and perhaps pretty early into Q3. 
Regardless of when Shadowlands does release, however, it's important the expansion comes sooner rather than later. World of Warcraft is getting a pretty big boon today in Patch 8.3 and letting it squander wouldn't quite be in the best interest of Blizzard. Don't be shocked if the momentum that the game picks up today and over the course of the coming weeks is quickly utilized into a prompt release of the game's next era. 
Photo Credit: Blizzard Entertainment, World of Warcraft