No state has been hit harder by the Covid-19 outbreak than New York. The Empire State has over 53,000 reported cases to its name, and as a result, nearly all of the state's operations have been suspended until further notice. Esports, despite its online nature, was no exception. 
This past Friday, the New York Excelsior of the Overwatch League backed out of all of the league's scheduled competitive matches until further notice. This decision came in concert with the "stay-in-home" order passed by Governor Andrew Cuomo earlier in the week. The team announced its decision to suspend all competitive activities in an official statement on Friday, saying that they'll be "continuing to make all efforts to return to competition as soon as possible".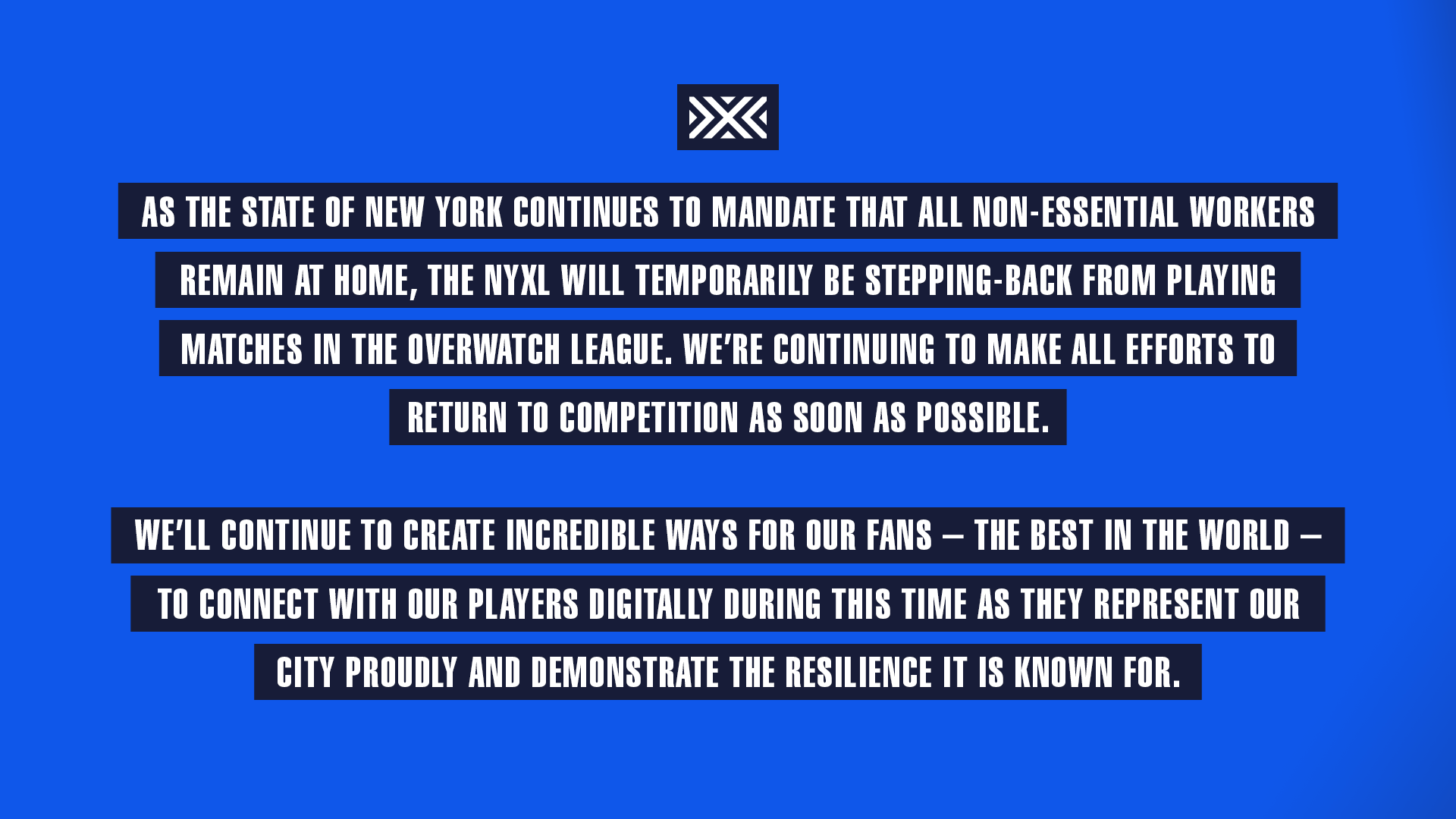 What makes the situation perplexing is that as of right now, the Excelsior is the only OWL team to act in regard to its home state's preventative measures during this global outbreak. Governor Gavin Newsom of California also put a state-wide "stay-at-home" order into effect earlier this week, yet teams like the Los Angeles Valiant, Gladiators, and San Francisco Shock are continuing to compete in the league. In fact, two of those teams, the Shock and the Gladiators competed against each other on Saturday. 
And although everything is subject to change at a moment's notice in times like these, it would certainly be odd to see teams drop out of the league one at a time. With an incomplete field for any portion of the season, the playoff picture becomes heavily convoluted. Regardless, Blizzard is doing its best to squeeze in as many makeup games as possible. Before the NYXL dropped out of the league on Friday, 16 games were scheduled to be played this weekend alone. Future weekends on the horizon were planned to be even more stacked in an effort to reclaim lost time from the early stages of the Coronavirus outbreak.  
It's still unclear as to whether or not the Overwatch League will suspend the remainder of its season. Other esports leagues, such as the LCS, seem to be surviving the initial measures of quarantine, but due to the fact that OWL operates on a global scale, there may be further complications to the league's long-term state of activity. 
Photo Credit: Blizzard Entertainment, The Overwatch League